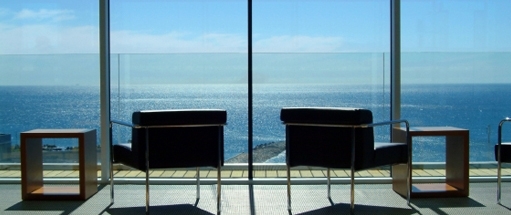 The latest generation of switchable glass provides a simple and cost effective alternative to other switchable smart glass technologies. It is manufactured by UV bonding the switchable film to one of the glass surfaces. This UV bonding process means that the film can be simply applied to any type or thickness of glass, creating a solution with optimum clarity. Another major factor is a reduction in manufacturing lead-time, making it the ideal choice for all time critical projects. A simple ON – OFF mode switches the film from being clear (transparent) to frosted (translucent). In its frosted state the film acts as an electronic blind providing privacy and security for any glass, window o r partition.
The switchable glass can be manufactured to any size with two standard widths 985mm (38.8") and 1205mm (47.4"). Larger sizes and custom shapes are also available. Multiple panels can be joined together to create large switchable glazed walls or partitions. This unique glass technology can also be used as a high definition rear projection screen to display T V images and videos. A truly innovative product making switchable glass technology accessible to everyone while giving your home or business the added WOW factor.
Benefits of using Switchable Glass in the home
Switches from clear to frosted
Privacy and security
Rear projection screen
High UV protection
Simple and safe to use
Custom sizes
Indoor and outdoor
Durable and reliable
Standard thickness of our Switchable Laminate Glass is 11.5mm (plus protective trim)
Other thicknesses are available for custom applications (7.5mm and 13.5mm)
Standard panels are available using clear float glass with the option of toughened/tempered glass. Other options include – tinted glass in green, bronze or blue/grey.
Specification
Switchable Laminate Glass
Power – 110 VAC
Frequency 50 – 60HZ
Electrical current – 0.1 amperes per sq.metre
Power consumption – 7 watts per square metre
Switching – less than 1 second
Operation mode – (ON) transparent (OFF) translucent
Light transmittance – ON – 75% OFF – 67%
Haze coefficient – ON – 7% OFF – 87%
Recommended Applications
Windows and doors
Walls and partitions
Conservatories and sun rooms
Privacy and security glazing
Cabinets and furniture
Screens and visual displays