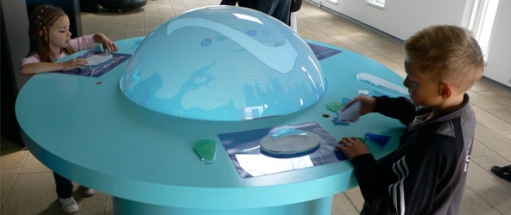 Custom Rear Projection Screens
Pro Display has developed a completely new market for its range of acrylic based diffusion screens and projection film materials by adding whole new dimension to the screen technologies.
Pro Display can cut their diffusion screens to any shape, graphic, icon or logo to create the ultimate promotional – attention grabbing screen. The materials can also be moulded or curved to create innovative screen solutions for any number of applications e.g. wave effects and globes.
A number of standard shapes and industry icons have been put together in our new catalogue, but we welcome your input so we can create custom shapes and logos. Please feel free to fax or email your request with an image or sketch of your requirements.
For a complete list of our standard shaped / curved screens please see our Custom Shaped And Curved Screens Brochure.
See our range of modular framed curved screens in both landscape and portrait. These screens can be joined together to create circles, rings, cylinders and waves.
Standard Features
» Standard range of framed curved and waved screens
» Standard range of shapes – oval, circle, cloud, heart shapes etc
» Standard range of industry icons – car, house, food, sports etc
» Custom shapes, logos and graphics
» Choice of diffusion screens / projection films
Recommended Applications
» Seasonal advertising screens
» Window displays
» POS / POP display
» Trade shows / Exhibitions
» Promotional attention screen
» Product launches / Corporate events
» TV shows / Concerts
» Museums / Visitor attractions / Theme parks
For further information please see our Projection Screen Accessories.
To add sound to your screen solution please take a look at our Soundpod audio transducers.