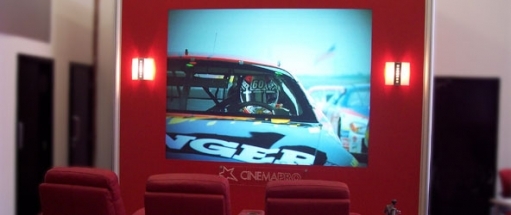 Rear Projection Fresnel Lenticular Screen
Our new Cinema Pro rear projection screen is our first attempt at a fresnel based lenticular screen. Basically this is our Pro Diffusion technology with a lens cast on the back of the screen to help disperse light more evenly across the surface and into the corners. The Cinema Pro Screen has been specifically designed to work with optical short throw mirror systems. An optical short throw mirror system reduces the projection distance by bouncing projected light off one or two mirrors.
Pro Display Optical Mirror Rigs
Pro Display has developed its own optical mirror rig solution for our range of Cinema Pro Screens. This professional mirror rig has been engineered to the highest standard using the best optical mirrors in the industry. Our optical mirror rigs are interchangeable between an 80", 100" and 120" Cinema Pro Screen.
The standard mirror rig has been designed to fit the Hitachi CPX 1250 Projector with a 0.8 short throw lens, to provide a cost effective solution for large screen cinematic projection. Other projector plate options are available upon request.
Pro Display has plans to create a budget range of projection mirrors in 2008. Please ask your local representative for further details.
Standard Features
» Hand-Cast fresnel rear projection screen
» Transmission – 70%
» Peak Gain – 3.2
» Horizontal half gain value (off axis) – +/-30°
» Vertical half gain value (off axis) – +/-30°
» Thickness – 6mm (0.25")
» Viewing cone – 120°
» Colour – grey (matt or gloss surface)
Standard Screen Sizes
4:3 Aspect Ratio – 80", 100", 120"
16:9 Aspect Ratio and custom screen sizes up to 160″ available upon request.
Recommended Applications
» Projection Rooms / Home Theatres
» Boardroom Screen
» Conference / Exhibitions
» Training Rooms
» Hotels / Corporate Events
» Bars / Clubs
» Shopping centres / Visitor Attractions
» Big Screens – TV / Video / PC
Installation
Pro Display offers a complete range of fixing systems which includes aluminum screen frames and modular projection room solutions. This also includes modular projection room packages including Cinema Pro screen, mirror- rig, projector and lens options and a complete range of accessories such as cinema seating and sound systems.
For further information please see our Projection Screen Accessories.
To add sound to your screen solution please take a look at our Soundpod and Sound Design audio technologies.