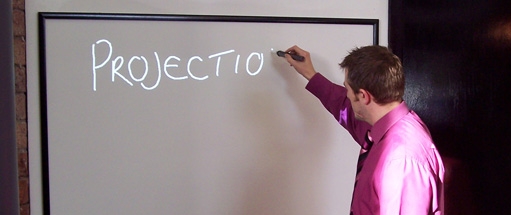 Pro Display also offer a number of front projection touch screen solutions. This includes our new High Gain screen which is a specially formulated rigid flat front projection screen providing high gain (brightness), excellent contrast and good colour reproduction in high ambient light and daylight. This unique screen technology offers superior performance to conventional screens, making it the ideal choice for all front projection applications. There is no need to turn down the lights; you will still achieve bright and vivid images. A very special optical surface is cast on both sides to create dual projection surfaces and 180º visibility on both sides. This screen disperses light more evenly across the surface area which also means it is the ideal screen choice for all short throw projectors such as NEC WT610 / 615, Hitachi ED-A100 / 110. This screen was specifically designed to work as a high gain solution for interactive whiteboard applications using interactive projectors such as NEC's WT615 or interactive devices such as eBeam and IR interactive bezels.
High Gain front projection screens are available in sizes 30" – 138" diagonal.
Standard framed screen sizes available for white board applications – 67", 84" and 100" diagonal. These screens come complete with a simple to fit self locking wall frame in either black or silver finish.
Designer Interactive Board
This is a new front projection touch screen designed for the corporate office environment – standard screen size 67" diagonal. The designer interactive board is using the high gain front projection material with one of our clear interactive foils applied to the back of the screen and then this is mounted in a designer satin silver frame and wall mounted using special fixing studs. This solution is also available with optional surface sound (speaker).
In 2008 Pro Display will launch a new range of large format IR interactive bezels for both front and rear projection applications.
Benefits of using the High Gain front projection screen for touch screen applications–
The major advantage of using this screen is brighter more vibrant images in areas with high ambient light / daylight.
High gain projection surface (peak gain – 8)
Wide viewing angles – 180º (H & V)
Tough / resilient surface
Suitable for use with dry markers
Optional – vandal proof coating
Large screen sizes available up to 138"
Recommended Applications
White board applications
Schools / universities
Corporate boardrooms 
Training / meeting rooms
• Exhibitions / conferences