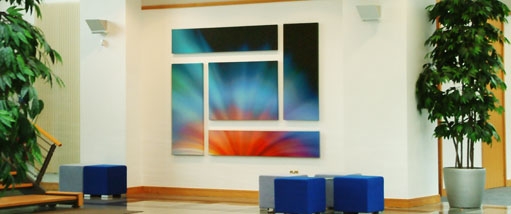 Pro Display's surface sound technology is a new type of loudspeaker in which the resonant modes of a panel are optimally excited by a transducer (exciter) to deliver a remarkable diffuse sound field over a wide audio frequency bandwidth.
Traditional Speakers
Traditional loudspeakers create a directional sound wave so their placement is critical; they are not flexible to the aesthetics of a space. To fill a room with even sound, the only option has been to use several speakers or larger speakers to fill a space with an even sound.
Surface Sound Technology
Our 'Surface Sound' technology does not work on the same principle. It radiates sound through vibration, just like the violin or guitar that creates its rich acoustic sound through vibration. The benefit of creating a sound wave through vibration is that, like daylight, it fills every corner of the room; therefore the positioning of the speaker is far less critical, so they can be placed where they look good. More importantly, virtually the entire room then becomes the sweet-spot.
Canvas Art Speakers
Flat panel speaker technology has seen major advances over the last couple of years. Our new range of high powered transducers produce significant output levels with a full-spectrum frequency response and when we combine these with our special acoustic sounding board we end up with amazing results. Pro Display now offers a range of canvas art wall speakers, available with a number of contemporary designer images that will blend in with any environment.  These speakers will fill unusually large areas with clean and clear non-directional sound due to their surprising dispersion characteristics, whilst their decorative appearance and flat construction allows them to be used in visually sensitive situations, making them become an integral part of the room's décor.
Standard Specification
Beamed output – 180º dispersion
Max. Continuous RMS – 40 watts
Max SPL – 107dB / 1m / 40 w 
Nominal impedance – 8 ohms
Connection – dual push terminals
Material – acoustic sound board
Weight – standard 4 kg
Fixing – screw fix wall plate / rubber bush
Surface – choice of designer canvas images