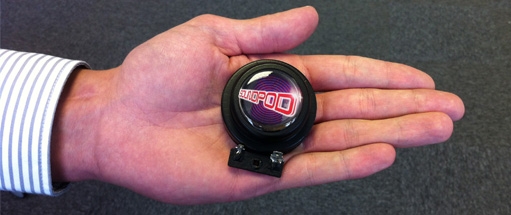 Turn Any Surface into a Loud Speaker
Pro Display's surface sound technology is a new type of loudspeaker in which the resonant modes of a panel are optimally excited by a transducer (exciter) to deliver a remarkable diffuse sound field over a wide audio frequency bandwidth.
Traditional Speakers
Traditional loudspeakers create a directional sound wave so their placement is critical; they are not flexible to the aesthetics of a space. To fill a room with even sound, the only option has been to use several speakers or larger speakers to fill a space with an even sound.
Surface Sound Technology
Our 'Surface Sound' technology does not work on the same principle. It radiates sound through vibration, just like the violin or guitar that creates its rich acoustic sound through vibration. The benefit of creating a sound wave through vibration is that, like daylight, it fills every corner of the room; therefore the positioning of the speaker is far less critical, so they can be placed where they look good. More importantly, virtually the entire room then becomes the sweet-spot.
Pro Display uses several methods to create 'surface sound' for a variety of different applications.
Please see also our range of Soundvision Screen Technologies.