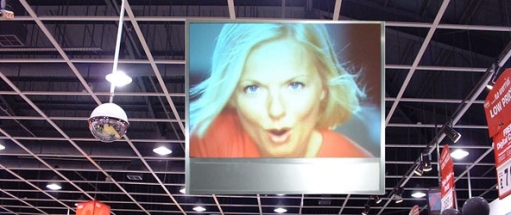 Rear Projection Screen with 360° Surface Sound
Pro Display offers their range of rear projection diffusion screens with surface sound technology, providing the ideal medium for big screen advertising and entertainment. This unique flat panel speaker system is incorporated into an aluminium frame to provide a lightweight screen solution that can be easily installed into most situations.
Optional colour coordinated frames and graphic panels available.
Standard Features
• Lightweight satin silver aluminium surround
• 360° surface sound technology
• Choice of diffusion screens
• Thickness – 25mm (1")
• Optional frame colour / graphic panel for speaker area
Standard Screen Sizes
4:3 Aspect Ratio – 60", 84", 100", 120"
16:9 Aspect Ratio – 60", 80", 92", 120"
Custom screen sizes are available upon request.
Installation
Pro Display offer a complete range of fixing systems which includes wire cable and rod suspension systems, aluminum frames and portable screen stands.
For further information please see our Projection Screen Accessories.
To add sound to your screen solution please take a look at our Soundpod audio transducers.