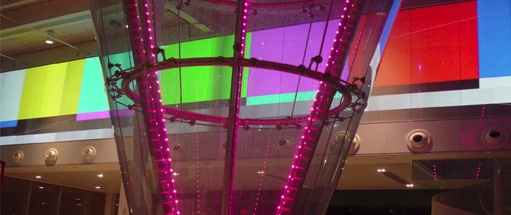 Switchable Glass Screens
These unique switchable glass screens come complete with a wired cable suspension system, 110V transformer and RF remote control switch. A simple ON – OFF mode switches the glass from being clear (transparent) to frosted (translucent) and in its frosted state the glass becomes a high definition rear projection screen (front/dual projection versions available). Standard screen sizes range from 50"– 120" or custom sizes are available upon request. Alternatively panels can be manufactured to any size and joined to create large format displays.
These switchable glass screens have a very minimal look which will blend easily into any architectural or contemporary interior, making them the ideal screen choice for both historical buildings (churches, museums, theatres and concert halls) and modern hi-tech environments (hotels, offices, stadiums, shopping malls).
Features
Switchable glass
Power – 110vac
Frequency – 50/60Hz
Cur rent – 0.1 amperes per m2
Power – 7 watts per m2
Switching – < 1 second
Operation – (on) transparent / (off ) translucent
Benefits
Transparent screen technology
Minimalist look & feel
Standard screen sizes 50" – 120"
Custom sizes available
Wire cable suspension system
RF remote control
2 year warranty
Recommended Applications
Video / advertising screen
Museums / visitor attractions
Churches / auditoriums
Exhibitions / conference
Store windows / retail displays
Concert halls / theatres
Hotels, bars & clubs
Designer Switchable Glass Stand
The very latest in visual design innovation to compliment any modern home or business interior. Images can be projected portrait or landscape (50" diagonal). The stylish base unit is available in a number of finishes (wood, metal, marble or fabric) and is also a speaker to provide the complete hi tech TV / PC advertising screen.
» Designer LCD Glass Stand Video
Suitable for use with any LCD / DLP projector – see our portable projector stands.