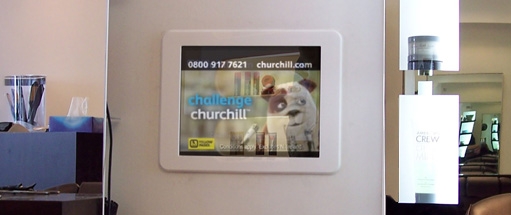 Pro Display offer a range of Mirrorvision LCD Advertising Screens where the 'reflections technology' is combined with our LCD TFT panels with built-in media players, making them the ideal solution for any digital signage applications.
Pro Display manufactures an exclusive range of wall mountable LCD Mirrorvision Advertising Screens with a very minimalist look and feel – available in a variety of different screen sizes and configurations. Standard screen sizes are 10.4", 15" and 19" with both PC and video inputs. The Mirrorvision LCD Advertising Screens offer a very contemporary design, with a 6mm (0.25") frameless mirror glass panel and attractive wall fixings (portrait aspect).
Custom screen designs and frame options available upon request (landscape/portrait), including shaped glass screens or multiple LCD panels to display a number of images at the same time.
Optional – Interactive Touch Screen Overlay.
Standard Features
Frameless mirror glass screen / wall fixings
Optional frame designs (traditional / contemporary)
Portrait aspect (landscape optional)
Various of screen sizes 10.4" – 32"
High brightness / high contrast display
Supports JPEG, MPEG 1, 2, 4, MP3
Supports CF type I/II – update via USB port
Stereo speakers and optional motion sensor
IR remote control
Applications
Shops / shopping centres
Hotels / bars / restaurants
Changing rooms / restrooms
Corporate buildings 
Visitor attractions / Museums
Reception areas / meeting rooms
Hair & beauty salons