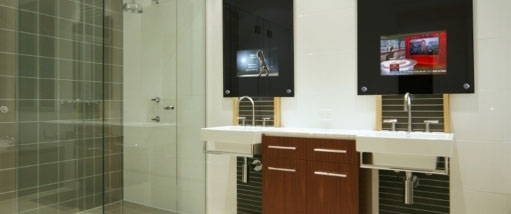 Mirrorvision from Pro Display is a product line which gives display technologies a whole new look and feel. A range of display solutions that fully integrate with their surroundings, creating light and space in any room.
Pro Display's unique mirror glass reflections technology is combined with a number of display devices to create a screen with a difference. When the device is switched on, the PC / TV images magically appear through the mirror surface, becoming a high resolution screen. Then when the display device is switched off the screen surface reverts back to a normal mirror.
Pro Display offers a range of Mirrorvision Glass Panels or Framed Overlays to transform your LCD or Plasma Screen into a 'decorative mirror' when the device is switched off. Transform your screen by making it an integral part of the room's décor, adding a sense of style and elegance to any traditional or contemporary interior.
Mirrorvision Glass Panels come in two standard thicknesses 4mm or 6mm and the largest single panel size is 1750mm x 1250mm or 3150mm x 1750mm. The mirror glass can be cut to size (toughened/tempered) and placed directly over your display screen using a special adhesive tape or fitted within a decorative frame which can be affixed to the bezel of your current display.
Custom shapes and sizes can be cut to order.
Optional – Interactive Touch Screen Overlay.
Standard Features
Thickness of mirror glass – 4mm or 6mm
Largest panel size – 1750mm x 1250mm or 3150mm x 1750mm
Reflective mirror finish
Choice of frames / surrounds
Custom shapes / sizes
Cutting / toughening service
Recommended Applications
Designer home interiors
Home theatre / entertainment
Corporate boardrooms 
Shop fitting / displays
Fashion stores / changing rooms
Hair & beauty salons 
Bathrooms / bedrooms / kitchens
Gymnasiums / health clubs