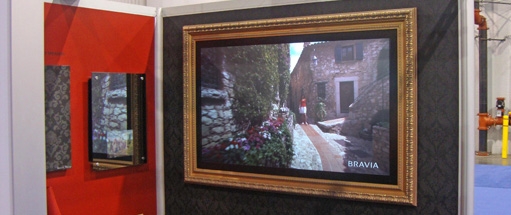 High Contrast Front Projection Screen
Ultravision Screens have been developed for both the professional home theatre market and high end audio visual installs in venues such as hotels, restaurants, bars and clubs. They offer the ultimate front projection screen even in brightly lit environments. This unique high resolution (HD) screen technology offers superior brightness, contrast and black levels, to recreate lifelike images with perfect colour reproduction.
The rigid front projection surface is available with a selection of decorative frame designs, making it suitable for both contemporary and traditional interiors, creating a world where the screen becomes an integral part of the room's décor or its own piece of moving art. For individuals who have a need to be different and a desire for the very latest and innovative technology, this screen offers you a visual experience which will far exceed your expectations.
Features
Optical front projection screen
High gain – 5.7
Horizontal half gain – +/-25°
Ver tical half gain – +/-16°
Colour – silver grey
Includes satin silver frame
Range of decorative frames available
Benefits
Standard screen sizes 60" – 115" (16:9)
High resolution (HD) screen
Reproduces life like images
True colour reproduction
Projection in brightly lit areas
Superior contrast / black levels
Image quality far exceeds other front projection screens
Recommended Applications
Home cinema screen
Hotels and restaurants
Bars and nightclubs
Corporate boardrooms
Music / video stores
Cinemas / entertainment venues
Airports / visitor attractions